Hyakka Ryōran: Samurai Girls is a 2010 anime TV series based on the light novels written by Akira Suzuki and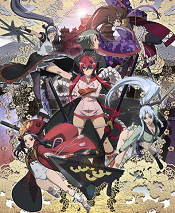 illustrated by Niθ, published by Hobby Japan. Produced by ARMS, the series is directed by KOBUN, series composition by Ryunosuke Kingetsu, music by Tatsuya Katou, produced by Hisato Usui, Ryūji Sekine, Shinsaku Tanaka, and Takuro Hatakeyama, and character designs by Tsutomu Miyazawa, with narration in early episodes provided by Fumihiko Tachiki. The series takes place in Great Japan, an alternate version of Japan where the Tokugawa shogunate remained active and has remained isolated from the rest of the world, and the story centers on Muneakira Yagyu, a young man attending Buou Academic School, an academy located at the base of Mount Fuji where elite nobles train to become samurai warriors. His life takes a sudden turn when he meets Jubei Yagyu, a mysterious girl who fell from the sky naked who later becomes his first "Master Samurai" after receiving a kiss from her.
Twelve episodes aired on Chiba TV and TV Kanagawa between October 3 and December 19, 2010, with later broadcasts on TV Saitama, Tokyo MX, TV Aichi, Sun Television, and AT-X. A preview of the first episode aired on Tokyo MX on September 4, 2010 prior to the official airing. Simulcasts were provided in North America by Anime Network on their video portal for their paid suscribers, and in Australia and New Zealand by Madman Entertainment.[1] Six DVD and Blu-ray volumes were released by Media Factory between November 25, 2010 and April 28, 2011, each containing an OVA short called Hyakka Ryōran Samurai Girls: Blushing Maidens in the Pact (百花繚乱 サムライガールズ 〜乙女♥嬉し恥ずかし将士の契り〜 Hyakka Ryōran Samurai Gāruzu ~Otome Ureshi Hazukashi Shōshi no Chigiri~?) and a voiced 4-koma illustrated by Chiruo Kazahana. Blu-ray box set is scheduled for release on February 27, 2013.
Samurai Girls is licensed in North America by Sentai Filmworks, and distributor Section23 Films released the series with an English dub (produced by Seraphim Digital) on August 23, 2011 on DVD and Blu-ray.The anime is also licensed in Australia and New Zealand by Madman Entertainment, and in the United Kingdom by Manga Entertainment.The English dub of the anime premiered on Anime Network's video portal on June 23, 2011.
The opening theme for the series is "Last vision for last" by Faylan, while the ending theme is "Koi ni Sesse Tooryanse" (恋にせっせ通りゃんせ?) by Aoi Yūki, Minako Kotobuki, and Rie Kugimiya, the voices for Jubei Yagyu, Sen Tokugawa, and Yukimura Sanada, respectively.
A second anime season, titled Hyakka Ryōran: Samurai Bride (百花繚乱 サムライブライド Hyakka Ryōran Samurai Buraido?), was announced on the twelfth volume of the light novels.
Episode List
#'

Title '

Airdate'

1

"The First Kiss" "Hajimete no Chū" (はじめての忠) 

October 3, 2010

2

"Naked Body Reincarnation" "Ratai Tenshō" (裸体転生) 

October 10, 2010

3

"The identity of the Master "Masutā Samurai no Shōtai" (剣姫の正体) 

October 17, 2010

4

"Hey, Give me a Kiss!" "Nee, Chū Shite yo?" (ねえ忠してよ?) 

October 24, 2010

5

"Here comes the Warrior of Love!" "Ai no Senshi, Tōjō" (愛の戦士、登場) 

October 31, 2010

6

"The Sea Monster Attacks" "Osoi Kuru, Umi no Kaibutsu" (襲い来る、海の怪物) 

November 7,2010

7

"The Shadow Over Great Japan "Dai Nippon o Ōu Kage" (大日本を覆う影) 

November 14, 2010

8

"The Slave of the Kiss" "Chū no Dorei" (忠の奴隷) 

November 21, 2010

9

"The Return of the General" "Jeneraru no Kikan" (将(ジェネラル)の帰還) 

November 28, 2010

10

"The Prison of the Evil Eye" 

"Magan no Rōgoku"

 

(

魔眼の牢獄

)

 

December 5, 2010

11

"The Samurai of France" 

"Furansu kara Kita Samurai"

 

(

仏蘭西

(

フランス

)

から来たサムライ

)

 

December 12, 2010

12

"The Goodbye Kiss" "Sayonara no Chū" (さよならの忠)

December 19, 2010
DVD/Blue-ray Specials
Edit
#'

Title'

Release'

1

"The Throbbing Heart of Jubei" "Jūbee ga Mune Kyun" (十兵衛が胸キュン) 

November 25, 2010

2

"Princess Sen's Kissing Lesson" "Senhime Seppun Shinan" (千姫接吻指南) 

December 22, 2010

3

"The Maiden's Beach Stories" "Otome Kaigan Monogatari" (乙女海岸物語) 

January 26, 2011

4

"From Kanetsugu to Yukimura" "Kanetsugu Kara Yukimura e" (兼続から幸村へ) 

February 23, 2011

5

"Gisen's Indecent Trap" "Gisen Inbi na Wana" (義仙淫靡な罠) 

March 23, 2011

6

"The Untold Story of the Girl's Photo's 

"Otome Satsuei Hiwa"

 

(

乙女撮影秘話

)

 

April 27, 2011